How do your employees add value to the organization?
Each individual's development journey is unique, and unlocking their true value through coaching translates into opportunities for professional advancement, productivity, business development, and innovation. By assessing professional communications opportunities, multicultural development needs, and immediate-term career aspirations, we develop a customized coaching engagement that quickly puts individuals on the path to career success.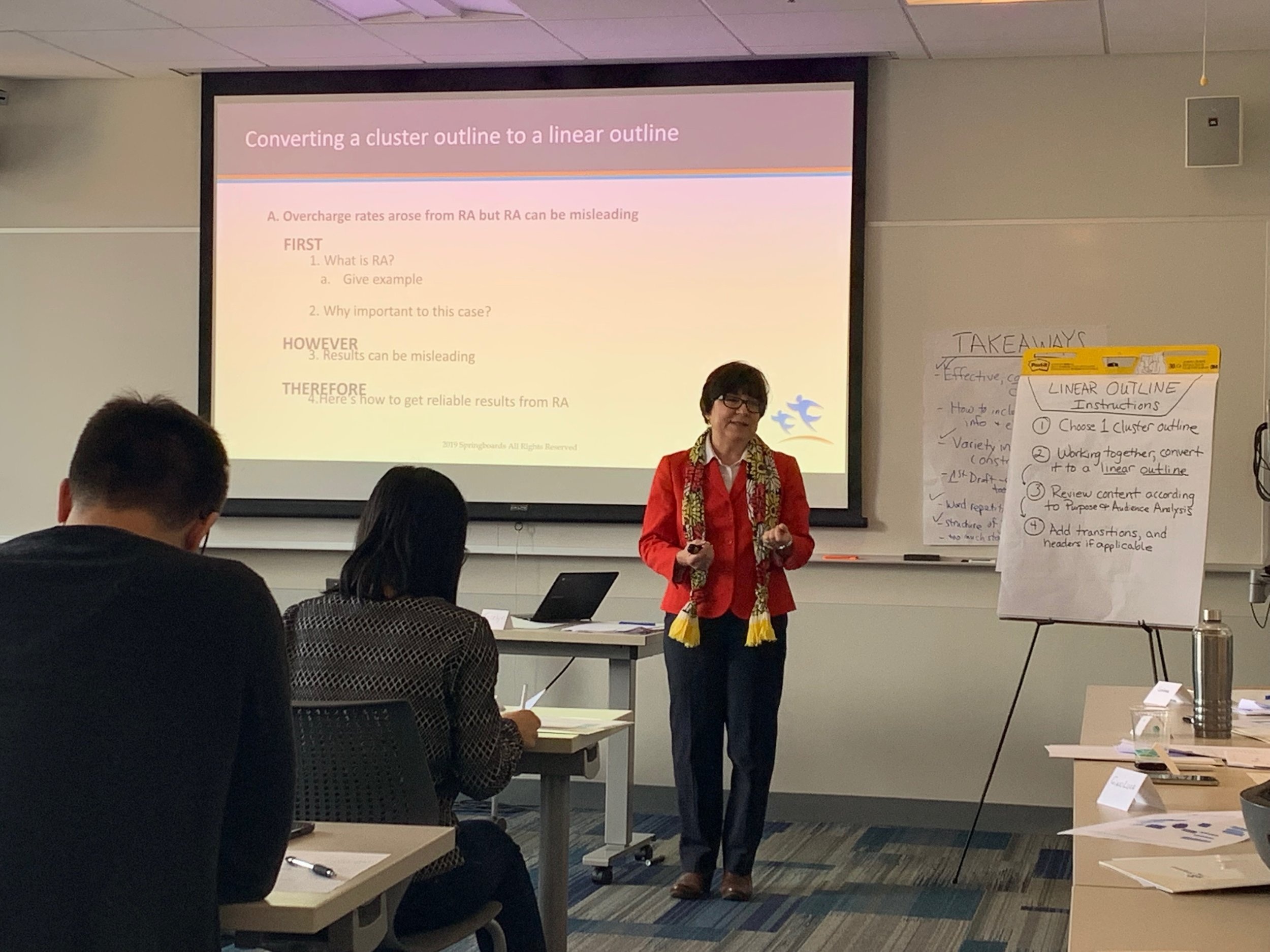 Does one size fit all – or most?
Our topical workshops in writing, executive communications, and presentation skills are interactive, directly applicable to your company's work, and very conveniently programmed for participants to attend. Participants receive a robust learning experience from supportive, knowledgeable instructors, and a wealth of materials to complement the training. Workshops included one-on-one sessions to enhance the learning experience and provide deep-dive, individualized support to learners with diverse needs.
Springboards 7-Step Approach™
Our 7-Step Approach™ identifies, benchmarks, and measures return on behavior for executive communications and language & culture development opportunities. It is a comprehensive and holistic approach to coaching individuals that brings out their best-- and the company's best.
1. Initial Consultation and Coach Identification
2. Coach Kick-off and Preliminary Needs Assessment
3. Springboards Peer Review & Scorecard™
4. Coaching
5. Midpoint
6. Post-Program Peer Review & Scorecard™
7. Final Progress Report with Ongoing Recommendations
Initial Consultation and Coach Identification

Springboards arranges an introductory call or in-person meeting with the coaching client to assess high level needs, developmental triggers motivating the coaching interest, and benchmarks and milestones the client would like to see through the coaching. Springboards then matches a member of its coaching team to the client, based on target skills, scheduling needs, and client background and preferences.

Coach Kick-off and Preliminary Needs Assessment

The Springboards coach and client hold an initial assessment meeting in which the coach uses a proprietary Springboards verbal or written assessment tool to review client needs and identify specific areas for development. In this meeting, they also identify a few peers for a follow up Springboards Peer Review. (Springboards follows up with the client on this first meeting, and periodically throughout the engagement to ensure they are 100% satisfied with their coach.)

Springboards Peer Review & Scorecard

Springboards and the employee identify challenges from the Observation step, discuss short and long-term goals, and evaluate an outline of the coaching in view. At this stage, we might also recommend the addition of a peer review assessment and suggest that 2-3 colleagues or advisers be selected in order to collect feedback on the employee's professional communication. Springboards collaborates with the company, employee sponsor, and employee directly, in order to solicit peer feedback. Through a holistic approach, we use self, peer, and coach feedback report summaries before, during, and even after the coaching to ensure language and communication goals are met. This takes place in Session Two.

Coaching

The coaching client and coach meet for 3-4 months of routine meetings, generally every 2 weeks on site, remote, and/or blended. Coaching meetings are supplemented by interim exercises to support the ongoing learning of the coaching client.

Midpoint

Halfway through the program the Springboards verbal or written assessment tool is newly applied to a fresh piece of work, e.g. a client presentation or a manuscript, and scored to determine progress. The coach develops a midpoint report to address areas of coverage and ongoing development areas. Depending on program goals, these midpoints are also shared with managers or program sponsors for additional, real-time input.

Post-Program Peer Review & Scorecard

Once the coaching sessions are completed, the coach reaches out to the peers consulted at the beginning of the program and/or to the program sponsor to gather anecdotal feedback. This input—using the same effectiveness rating scale--is compared against prior scores and is once again collated into a final report. The coach and coaching client have the opportunity to review the final feedback and implications on continuing development as relevant.

Final Progress Report with Ongoing Recommendation

As in the Needs Assessment and Midpoint, the Springboards assessment instrument—verbal or written—is applied to a final piece of work for new "progress scores." Together with the final peer feedback, assessment scores and coach observations are brought into a final development portfolio.
Get in touch.
The best way to get in contact with us is to message us through the chat. If we are unavailable you can always email us directly at info@springboardsconsulting.com. You can also reach us by phone at 888-978-8402 or fill out the form below.

For job opportunities, please email us your resume. We're always looking for new and exceptional coaches.